How do you do SEO for a website, and what is enterprise SEO?
I've been working with enterprise companies for many years. From B2B marketing for Concur and GitHub to eCommerce marketing for ADP (usedcars.com), Nordstrom and Groupon, I have learned how Enterprise SEO can be complex.
While understanding what enterprise SEO is, we need to take a look at what defines an enterprise company, followed by the basics of SEO.
What Is an Enterprise Company?
An enterprise company is generally considered a large corporation whose employee count reaches over a thousand and whose yearly revenue is over $1 billion.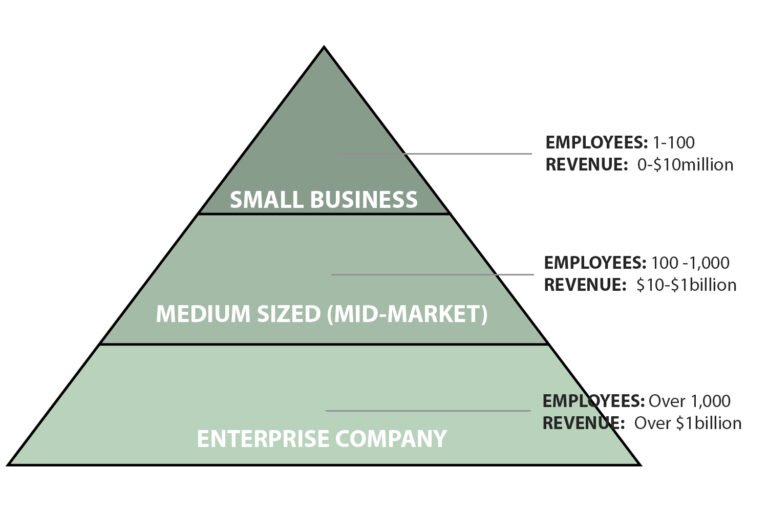 An enterprise company can have a broader meaning than a corporation. The word "Enterprise" means that the company has multiple levels, locations, divisions, or departments collaborating to achieve big-picture business objectives.
Most enterprise companies follow emerging trends in the latest technologies. Enterprise organizations will often have huge budgets for marketers to work with, allowing them to be aggressive with their spending.
Enterprise SEO's role within these corporations can be complex at best. While optimizing a smaller or medium-sized organization's website, it's easiest to focus on the rudimentary tactics of SEO rather than a broader strategy.
Let's look at what it takes to do SEO for a website and then dig into what enterprise SEO is.
How Do You Do SEO for a Website?
SEO for any website consists of understanding what your users are searching for, where the opportunity for optimization is (i.e., keyword analysis), identifying content that matches those keywords, and completing SEO best practices.
Understanding What Users Are Searching For
Content for Research
When users type a phrase into Google, they usually research a topic or question. Your enterprise SEO marketing will benefit when you consider what your users are researching.
Start by asking yourself, "What sort of questions or what type of research are my users going to be using Google for?"
If your website is an e-commerce site, then chances are they're researching the best product to buy. By providing them with all the answers, your site will more likely encourage those users to purchase.
Answering frequently asked questions about products, tips and ideas, and reviews from other users are ways to provide optimized content for search results.
Keywords for Research
Getting access to Google's Keyword Planner tool (or a similar tool like SEMrush or BrightEdge) gives you data insights to make decisions best.
A keyword analysis includes several keywords with the broad sum of how often a term is searched in Google monthly.
By focusing on the high-volume terms and working into the mid to lower-volume terms with a high intent to purchase, you can focus your optimization in an organized manner.
SEO Checklist
Once you know the type of content and keywords you are focusing on for your SEO marketing, it's time to optimize that content.
There is a more extensive SEO Guide here on Search Engine Journal, but I'll go through the basics in a quick list:
Overall Strategy

Directory and Keyword Groups – Determine what sub-directories and pages on your site will best fit keyword groups of a similar subject.
URL hierarchy – A URL hierarchy should be clear and concise matching the keyword groups and directory structure.
Linking hierarchy – Links from the homepage and sub-pages should follow the directory and keyword group structure.

On-Page Optimization

Keyword(s) focus – Choose one or a few keywords to focus your page's content on.
Heading/Title – Your main keyword should exist in the title with an H1 tag.
Sub-Headings – Wrap your sub-headings in H2 tags and include your keywords where it makes sense.
Links – Outgoing links should point to other pages on the site, and external sites, that support that keyword.
Keyword mentions – Depending on how many paragraphs you have, it's good to get no more than one mention of one of your keywords in a paragraph or two.
Meta Title and Description – Write a short title that includes your main keyword and a meta description that encourages a user to want to click and read more.
Image(s) – Add at least one image that supports the topic of the page and the keywords using alt tags to describe the image as if being described to a person who cannot see.
Bullet points – Bullet points with mentions of the keyword (or two) within the list are helpful.
Q&A – Providing questions with answers will help your content appear as users research on Google using your focus keywords.

External & Technical SEO

Verify GSC ownership – By validating ownership of your domain in Google Search Console, you can manage your site and gain insights from Google.
Sitemap.xml – Create an .xml sitemap feed with your most important pages that you can submit to Google via Google Search Console.
robots.txt – Manage your robots.txt file to disallow any unnecessary files or directories (i.e. thank you and confirmation pages that might be linked to)
External Linking – Encourage links from relevant sites of authority that support your keywords and topics.
By knowing the basics of optimizing a website, you can advance into what it takes to optimize in an enterprise environment.
Let's talk about what enterprise SEO is to help get a solid understanding of the complexities.
What Is Enterprise SEO?
The large amount of revenue and traffic to an enterprise organization lends to the complexity that makes things a bit more difficult for SEO.
An enterprise website is typically built with several databases with thousands of engineers constantly pushing deployment in a DevOps (development and operations) process that renders one visually seamless interface.
The larger the company, the more complex systems and employee (and teams) roles are and the responsibilities become.
How Do You Know When a Site Has Reached Enterprise Level?
I outlined how to know when your company has reached that enterprise SEO level in a bit more detail, but the basic determining factors are the volume of traffic, dynamic aspects that drive the site, and multiple teams to accomplish the work needed for SEO.
The Enterprise SEO Checklist
The checklist for SEO in an enterprise company includes the basics but adds a bit more complexity in a large organization with thousands of employees to coordinate with. That creates red tape and a more complex system of development to execute any changes needed.
I've broken what is needed for enterprise SEO into what I call the 4 Pillars of Enterprise SEO Success.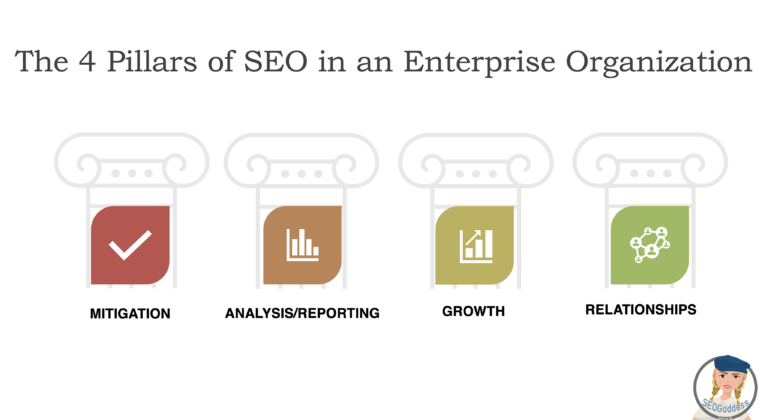 Those four pillars include:
SEO Mitigation: Error Management & Technical SEO

Keep a lookout for soft 404s, links to 404s, 3xx redirects, and their use, links to those redirects, 5xx server errors, page speed, etc.
Monitor and work with teams on faster page load times and how to optimize javascript and CSS to maximize that load.
Determine a strategy with the engineering team(s) that includes prioritization of fixes for any technical issues that come about.

SEO Analysis/Reporting: Calculating Assumptions & Reporting on Successes

Determine a cadence for reporting to leadership and other teams.
Establish criteria for what is reported for SEO.

SEO Project Management: Determining Growth & Managing Projects for SEO

Using keyword analysis and lining up with business priorities, determine projects that will support growth for SEO.
Work with teams on how those projects are managed (does the SEO pro project manage or is there a dedicated PM team?).

Relationship Building: Championing SEO to Stakeholders & Other Teams

Build relationships with leadership to get buy-in for SEO.
Work with other teams and show them the value of SEO so that they too can benefit.
Educate to help teams take the initiative to optimize themselves.
Enterprise SEO Tools
When a site and business reach the enterprise level, tools like Moz, ScreamingFrog, and DeepCrawl struggle to manage those sites. Once you know the behavior of your site and what you'll need to track, it's good to look at the tools that can help improve your enterprise SEO life.
In October of 2020, I released an in-depth review of the tools I've found that work best for enterprise SEO.
Among those tools, Botify has been the strongest.
With the ability to crawl 20 million URLs in just 5 days, Botify has the ability to segment those URLs, mapping to how the business is structured.
As each team manages a set of pages, sub-domains, and entirely new domains and releases blog posts that support their work, Botify pulls everything with analytics and GSC data into one seamless interface.
Other tools that I've covered provide added information around keyword analysis, content insights, low-hanging fruit, ROI estimates, and comprehensive competitive reporting.
All of these are helpful when determining the overall strategy and working with the 4 pillars of enterprise SEO.
Enterprise SEO in 2021
I made my first leap from agency SEO to in-house SEO in 2006 and never would have dreamed of the path that has taken. In-house SEO isn't a simple job of optimizing and making sure other teams like you.
Google has since made progress in tackling irrelevant content and spam, adding to a level of SEO that only a few have predicted. From Neural Matching to E.A.T, SEO professionals follow Google in the continued progress of matching a user's intent when searching for the content they are optimizing.
In 2021 we will see a continued effort to dig deeper into the searcher's psyche while they are searching.
When optimizing for Google in 2021, helping Google (and other search engines) understand what type of content, and what kind of site it is, will dramatically impact rankings.
Consider a few questions:
What type of site?
What is the story the site is trying to tell?
Is the site spammy?
Does the site put in the extra effort to provide helpful information?
Is the site a travel site that provides information on things to do in a specific location? Does the site include user-generated content, or is it considered a trusted authority on the content provided?
There are many factors to consider when optimizing an enterprise site in 2021 and how Google views the content overall.
You'll see positive results if the site does not appear to be spammy, is clean, technically, has clear and concise content, is organized, and is a trusted authority on the subject(s).
More Resources:
---
Image Credits
All screenshots taken by author, January 2021